---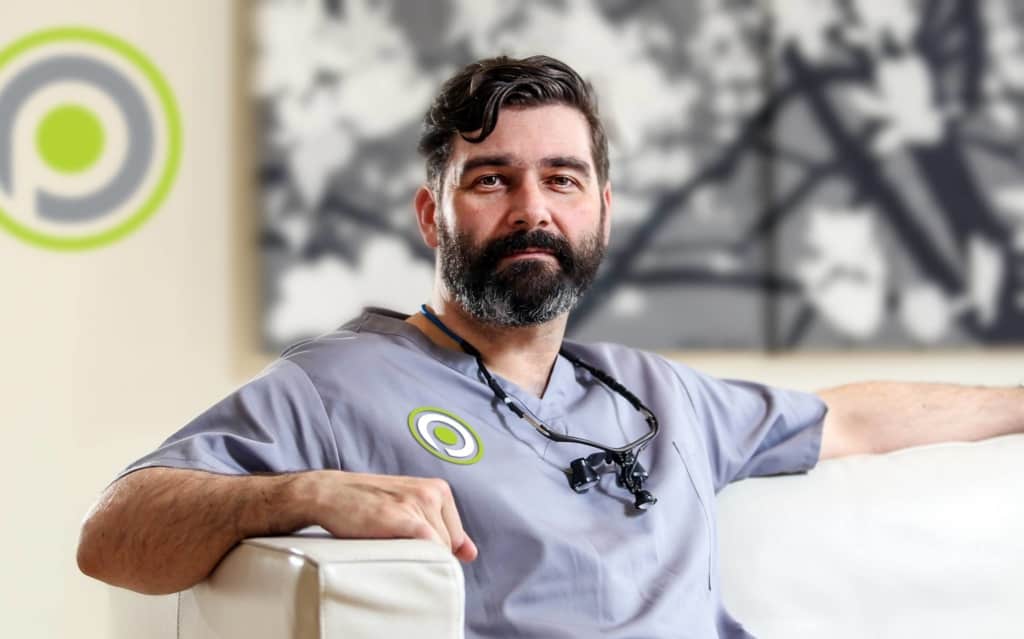 Dr Andrew Healy BDS MSc (Restorative & Aesthetic Dentist)
Andrew qualified from The University of Sheffield in 1998 and spent 4 years working in an NHS practice near Sheffield as well as working in the Oral Surgery Department of the Charles Clifford Dental Hospital teaching undergraduate dental students the dark arts of exodontia and Minor Oral Surgery.
In 2002 he returned to his home city of Liverpool where he worked in a mixed NHS and Private practice and underwent a yearlong Implant course under the tutelage of Dr Hilt Tatum, a long-standing innovator in the field of implantology.
In the winter of 2005 Dr Healy decided to open his own private clinic in the city centre of Liverpool and after a long search, finally found suitable premises from which his clinic still operates today.
Over the next 8 years, Andrew developed a reputation for outstanding clinical work in Aesthetic Dentistry, Implants and Orthodontics.
He also continued his interest in helping very apprehensive patients overcome their fear of Dentistry.
Andrew became trained in Invisalign, Quick Straight Teeth (Tooth Coloured Braces), Facial Aesthetics and Advanced Restorative Techniques such as Composite Veneers and Composite Bonding.
Over the years Andrew developed a deep interest in Aesthetic Dentistry.
This is not to be confused with the much bandied around phrase in Liverpool "Cosmetic Dentistry" in which there are no formal qualifications or training.
In fact, any dentist can call themselves a "Cosmetic Dentist" in Liverpool with no actual experience or extra training.
In early 2013 Andrew began an arduous 2.5 year Masters Degree in Restorative and Aesthetic Dentistry at the University of Manchester, graduating in July 2015 with a Distinction.
This was an incredible achievement given it involved combining many hours of study every night after a 12-hour working day, with many weekends working on his assignments and clinical cases.
This was all even more tough as her daughter was born 3 weeks after his Masters started!
Dr Healy now concentrates his clinical time following his ethos of maximising patients' natural smile using the minimum of dentistry.
By combining clever techniques and materials, Dr Healy aims to maximise natural aesthetics with minimal damage to the natural teeth.
---