---
---
Often a person's smile is compromised by several small factors that when added together create a disjointed appearance.
It is not always necessary to drill away lots of healthy tooth tissue and replace it with expensive porcelain veneers that will require replacement every 10 years or so.
Dr Healy's advanced training in Aesthetic dentistry Composite Veneers allows him for teeth recontouring and gums to achieve a symmetrically balanced smile without excessive destruction of tooth substance.
By also adding in additions of composite (white) filling material also known as composite bonding, a naturally beautiful smile can be created at a minimal cost to both teeth and wallet.
Fast, painless and inexpensive to place and maintain, aesthetic teeth recontouring, Composite Bonding or Dental Veneers in Liverpool is the clever, modern way to a beautiful smile that's all you.
Pall Mall Dental Clinic in the best cosmetic dentistry, we can completely change your smile with composite bonding dental veneers in Liverpool.
Think Kate Middleton, not Katie Price. Your natural smile. Enhanced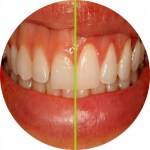 ---
---